We provide the best services RV collision Repair RV Motorhome fifth wheel repair, fleet painting semi truck body shop fiberglass repair truck bodies rv service rv roof rv paint we paint boats trailers heavy equipment fleet refinishing commercial finishes and coatings plastic repair commercial trucks and trailers farm equipment concrete pumpers commercial trailer sand blasting and fabrication replace aluminum panels replace trailer parts kenworth great dane national international trucks mack Armor light
Luxury RV Brands
RV OWNERS
FEBRUARY 9TH, 2021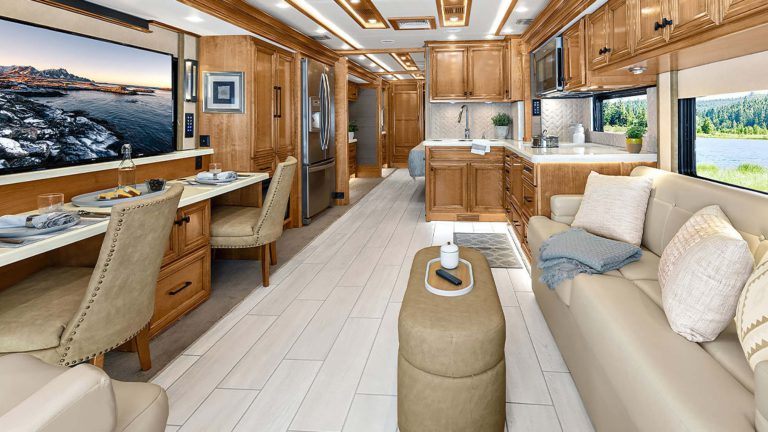 What would you do if you won the lottery? Many RVers are quick to answer that they would purchase a better motorhome or travel trailer; potentially even a luxury RV. That said, not many campers know what RV brand they might be looking at. That's where this piece comes into play.
There are a number of fantastic luxury RV manufacturers out there. Below, we will list our top 8 picks, split between 4 motorhome makers and 4 trailer companies. Whether you're actually looking to purchase a luxury RV or just daydreaming about "someday," these incredible motorhome and trailer brands are sure to have you drooling.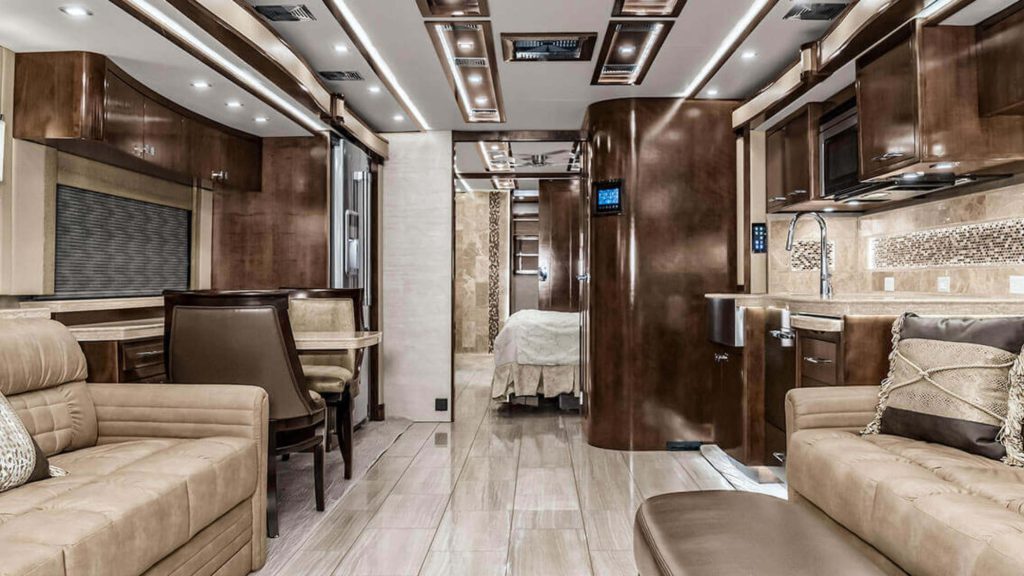 Top 4 Luxury Motorhome Brands
First, let's talk about luxury motorhomes. Because the vast majority of campers out there would choose a motorhome if money played no part in the decision making, most luxury RV brands are in the business of making motorhomes. Therefore, we had a tough time narrowing our options to only four luxury motorhome manufacturers. We did manage it however, and our top picks are listed below.
Newmar
While Newmar doesn't list all of its RVs as "luxury" units, we think everything they have to offer is top-of-the-line. That said, those that they do list as "luxury" really shine as incredible rigs. These are incredibly well-thought-out, and every single detail is just perfect.
Of the Newmar luxury RVs, the "King Aire" is, in our opinion, the most luxurious. This class A motorhome features tasteful, modern decor, heated seating and floors, stainless steel appliances (including an enormous fridge), a bedroom fireplace, and more.
Newell Coach
Newell Coach is another wonderful luxury RV manufacturer. This company builds custom motorcoaches that are sure to please even the most discerning of RVers, but does also offer some brand new pre-built inventory for those who need their motorhome in a hurry.
Some of the options offered by Newell Coach include top-of-the-line entertainment systems, floor plans to suit every need, and appliances such as garbage disposals, induction cooktops, full sized ovens, washers and dryers, and dishwashers.
Tiffin
A smaller, family-run business, Tiffin takes their time with each customer and each motorhome, ensuring they only put out the best of the best. Still, the company manages to offer luxury at a slightly lower price than the other options listed, something many RVers love.
Add-on features available from Tiffin include things like collision avoidance, in-dash navigation, a central vacuum cleaner, fireplaces, a two-door fridge, mattress upgrades, and more.
Marchi Mobile
Marchi Mobile creates a seriously odd-looking motorhome. That said, the "eleMMent Palazzo Superior" is also the most luxurious motorhome on our list.
This incredible RV looks something like a spaceship, and offers better stability and insulation than any other RV we've ever seen. With the push of a button, an automatic lift system raises up out of the body of the rig, creating a walled-in rooftop deck that is perfect for gathering with friends.
Different temperature zones can be set throughout the rig, and little upgrades such as a wine cabinet, ice maker, and king-size bed ensure the user lives in comfort even in the middle of nowhere.

Top 4 Luxury Trailer Brands
Of course, there's no reason a travel trailer or fifth wheel can't be luxurious too, and there are some luxury trailer brands on the market. In fact some of the luxury trailers out there are really amazing, and we would definitely consider choosing one of these over a motorhome in certain situations.
Here are our top luxury trailer picks.
Airstream
Perhaps the most well-known travel trailer company in the world, Airstream makes incredibly high quality products that many classify as luxury trailers. We do have to agree that the quality and comfort offered by an Airstream does land it a step ahead of most, earning it the top mention on our luxury trailer list.
One of the features you'll find in Airstream trailers is what they call Smart Control Technology. This allows you to control the lights, awning, A/C, and heater from a distance.
Other great features include stainless steel appliances, a heated shower floor and towel bar, handcrafted cabinetry, power blinds, and high quality furnishings.
Bowlus
A whole line of interesting-looking RVs, the Bowlus travel trailers are sure to catch your eye. These trailers are shiny like an Airstream, but with an unusual shape that we just love.
Currently, Bowlus offers three trailer models. Some of the features found in these models include a Pet-Flex system that monitors temperatures when you leave pets at home and includes slide-out pet bowls, a HEPA air filter with UVC, an incredible built-in water filtration system, GPS tracking, a smart brake controller, and more.
Living Vehicle
Want the ability to go completely off-grid and do some incredibly eco-friendly camping? If so, the Living Vehicle trailer is the perfect option for you. This trailer was designed by a couple with the intention of creating a self-supporting sustainable mobile living space.
This beautiful trailer includes everything you need to live off-grid, including a full solar setup, a 100-gallon freshwater tank, and a tankless water heater. There are also options to add more solar panels, an onboard water filtering sterilization, and more.
Space Craft
Finally, there is SpaceCraft. This company makes custom trailers that are absolutely incredible. The trailers are enormous, with some as long as 57 feet. Of course, those bigger rigs require the user to tow with a semi.
Options include king size beds, huge refrigerators, washer and dryer units, multiple bedrooms, and more. Best of all, these trailers offer an incredible amount of space, something most RVers truly value.
Image source: Tiffin
The Benefits of Purchasing a Luxury RV
Why would one need such a luxurious RV? Well, to be honest, nobody needs one of these rigs. That said there are definitely benefits to having a more luxurious camping setup.
These benefits include, but certainly aren't limited to, the following:
Better Build
Generally speaking, higher-end RVs are built better. This means the materials used to build these rigs are stronger and less likely to break or become damaged. It also means more care was likely taken during the building process, leading to a stronger, sturdier construction that will last longer than a typical RV might.
Higher Quality Furnishings
Luxury RVs also use higher quality furnishings. The couches, beds, chairs, and other furniture items will likely outlast the furniture in a run-of-the-mill RV. Additionally, this furniture is likely to be more comfortable.
Luxurious Amenities
The amenities in luxury RVs can be absolutely out of this world. Heated floors, full size bathtubs, intercom systems, marble countertops, and recessed ceilings are just a few of the amazing amenities you might find in one of these luxury rigs. These awesome features allow you to camp in style.
More Comfortable Ride
Lastly, it should be mentioned that luxury RVs tend to offer a more comfortable ride than other motorhomes. Collision avoidance systems help keep you safe, high-end navigation systems make it easy to know where to go, and more comfortable seating means fewer back aches.
Obviously, having a luxury RV would be a dream come true. However, nobody necessarily needs all of these amazing things to go camping, and a less luxurious but equally fun travel trailer or motorhome will still take you on plenty of fun adventures. Still, a person can dream—and in the meantime, that same person can continue to enjoy RVing adventures in whatever rig they can get their hands on.
Luxury Camping Accessories
Some RV accessories go above and beyond when you're looking to ride in style. Here are a few worth coveting.
1. Motorized Awnings
Image via carefreeofcolorado.com
From keeping your rig cool to creating a shady spot to kick back, there's no doubt that your RV's awning is important. But if you drive an older-model rig, you're likely sick of manually cranking it out and rolling it back up again every time you hit a new destination.
Motorized RV awnings make getting your patio set up as easy as pushing a button. And yes, you can install one on your existing RV as an aftermarket part — it's not even that expensive! For instance, the Rage ALEKO RVAWM10X8BRN13 Motorized Retractable RV Patio Awning is less than $800 on Amazon including shipping. Sure, you'll have to set it up… but once you do, you'll be done fussing with it for the foreseeable future.
2. WiFi Boosters
In today's all-digital-all-the-time age, staying online is more than a luxury — it's a necessity. But even if you stay in campgrounds that advertise free WiFi, you've likely noticed it's not as simple as just logging on.
Although the RV world is slowly catching up to the rest of the universe, many campgrounds still feature WiFi connections whose limited reach or bandwidth can leave you with a slllooooooowwwww connection. And that can be truly frustrating if you're trying to, say, stream your favorite shows.
That's why WiFi boosters, like the Winegard ConnecT, can be a total godsend. They're simple to install and can significantly boost your connection, or even provide a backup data connection if the WiFi should fail. You can find them for about $700 on Amazon — but if you're paying monthly rates for a digital hotspot, you probably already know that's a worthy investment!
3. Outdoor Entertainment Systems
Want to combine the great outdoors with the great indoors?
The best way is to install a rockin' outdoor entertainment system in your rig, so you can enjoy the game and the campfire at the same time. Hey, we never said this post was about compromises.
Whether you go all-out with an indoor/outdoor projector system or simply repurpose one of your basement cabinets into a flat screen TV armoire, bringing the big screen outside will help you make the most of your camping trip — especially next time there's a tailgating party!
Luxury Motorhomes
Here are some luxury accessories your motorhome might aspire to.
3. Smart Controls
How would you like to control everything in your rig, from your awnings to your slide outs, at the touch of a single button — or even your smartphone?
Technology's made this dream a reality… if you're willing to pay the price. Lippert's ONEControl system is available on a variety of 2018 model motorhomes, which means you've got to buy new if you want in. But once you see the list of all the control it puts in your hands, you may just be tempted!
4. Motorized Leveling
No one wants to hang out in a slanted rig, but leveling can be time- and energy-intensive… especially if you've got nothing better than plain old leveling blocks. Don't get us wrong, they get the job done, but it can take some experimenting.
Best Luxury Travel Accessories
Here are a few more luxury accessories for you to fawn over.
5. USB Wall Chargers
Looking for affordable gizmos that still feel like luxury accessories? Look no further than these specialized wall plates, which allow you to plug electric gadgets directly into the outlet. They're available for less than $10 a piece, but they still feel like a major upgrade. Don't you love when that happens?
7. Solar Power
Alright, alright… this is one luxury camping accessory you doubtless already know about. Heck, it's probably already on your list.
But although upgrading to solar is a hefty investment, it pays dividends down the line — especially when you throw in a set of lithium batteries. If you don't do it for the noise-free boondocking, do it for Mother Earth!
Glamping
With the right accessories, any camping trip can feel glammed-up and fabulous, no matter what kind of RV you drive.
Not quite done dreaming about your next upgrade? Check out the following posts here on the blog:
Go ahead — treat yourself. You've earned it!
Looking for even more RVing tips and tricks — both during the purchase process and for your first camping excursion?
Our Services
ARMOR LITE
For over 60 years, Armor Lite has been designing and manufacturing high-quality steel trailers. Armor Lite's 100,000 square foot manufacturing facility in Missouri allows its team to ensure that the utmost quality is upheld in every build.
Each trailer by Armor Lite is 100% American-made, with a focus on unrivaled precision and detail in design. These trailers make a great choice for the commercial trucking industry due to their extreme durability and reliable design.
GALYEAN
For over 30 years, Galyean has been designing and building acid, chemical, and fertilizer trailers. Today, Galyean also designs stock trailers, using the same protection found on its acid, chemical, and fertilizer trailers for its stock trailers.
In order to create a trailer that can hold up against such caustic environments, Galyean uses a detailed process in which its team blasts the surface of the trailer's steel down to a near-white finish. Then, a three-step acid wash and phosphorus solution rinse is applied which cleans and etches the steel. Next, high solids, Epoxy paint is applied, followed by a superior DuPont lmron acrylic clear coat finish with added corrosion inhibitors to fight rust. The end result is an extremely durable trailer, which is far more resistant to rock chips and scratches than standard trailers.
LIDDELL
Liddell designs and builds the best in heavy-duty trailers. Quality is at the center of everything this company does. Their world-class trailers are designed fully in-house. Liddell handles welding, painting, and servicing, ensuring quality is met in every build. Additionally, Liddell offers custom trailer builds.
LOHR
When shopping for a car hauler, there is one brand that leads the way — Lohr. Lohr is actually the world's leading designer and supplier of car haulers. This company has designed and manufactured tens of thousands of car haulers, which are in operation around the globe today.
Lohr's biggest claim to fame is its invention of the articulated transporter and the detachable transporter.
SCONA
In the oil and gas industry, Scona has established itself as the premier brand of trailers. The Scona Rig Moving trailer lineup features some of the toughest trailers available in the industry. Scona prides its business on forward-thinking, creating innovative designs with a focus on quality workmanship. With a history of performance, Scona has built its brand on a tradition of excellence.
TIMPTE
The #1 selling dry bulk commodity trailers in North America are designed by the trusted brand of Timpte. Timpte designs its trailers to last for life. The goal of this manufacturer is to ensure that their customers don't need to think twice about whether or not the trailer they purchased will be able to get the job done. Known for its rugged trailer designs and extreme dependability, a Timpte trailer is a quality long-term investment.
TOWMASTER
When it comes to choosing a trailer that can haul heavy equipment, Towmaster is the trusted name. Towmaster has been designing and engineering top-tier flatbed equipment trailers for over 40 years. Towmaster trailers are known to be easy to use, long-lasting, and safe.
Investing in a Towmaster is an investment in your business. Towmaster offers a wide lineup of trailers including low-deck, tilt-bed, hydraulic dump, large deck-over tag, fifth-wheel drop-deck, hydraulic tail, and lowboy hydraulic detachable gooseneck trailers.
TRAIL KING
Based out of Mitchell, South Dakota, Trail King is the leading manufacturer in North America of a complete line of trailers. Trail King designs, engineers, and manufactures its trailers to serve across numerous industries including construction, agriculture, transportation, waste and recycling, and specialized hauling. Trail King trailers are known for reliability, durability, and superior performance.
If you are ready to see the top trailer manufacturers of 2021, look no further than Transwest. We carry a premium inventory of commercial trailers designed for every application imaginable. Whether you need a trailer for hauling heavy equipment or a specialized tank trailer for transporting chemicals, we have you covered.
Freightliner (semi truck manufacturers)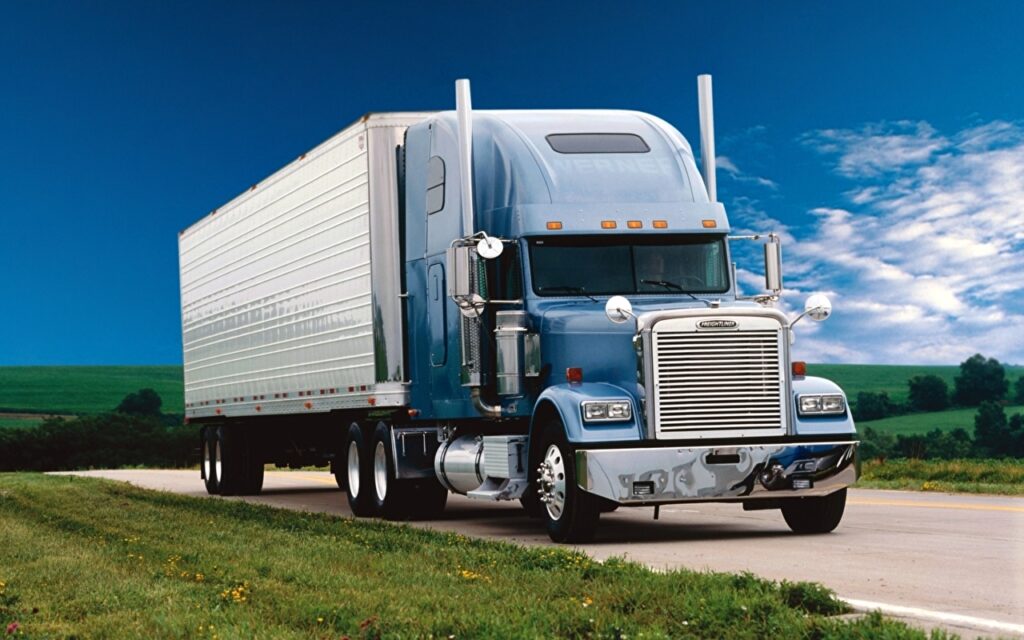 Freightliner (a division of Daimler Trucks America) is known for their heavy-duty 8 class diesel trucks as well as 5-7 class trucks.
Freight liner holds 40% of the commercial truck market share in the USA, it sells the most number of trucks in America (about 190k trucks per year). They employ 3000+ workers in their Cleveland, MT, Holly facilities.
Freight liner manufactures on the highway, medium-duty, severe duty & natural gas trucks. It also makes several models and styles of Commerical vehicles. It has top features for drivers and a very affordable price tag and operations cost many drivers select Freightliner.
Freightliner trucks offer day, sleeper, and crew cab options. Their trucks are build to handle all types of loads, and they house a 350-600 horsepower engine.
Freightliner has rolled out an all-electric commercial truck named eCascadia and eM2 106 under the e-mobility brand.
2) PACCAR (semi truck manufacturers )
PACCAR (fortune 500 company) is a medium and heavy-duty truck manufacturer. PACCAR does design, manufacture, and customer support of trucks under Kenworth, Peterbilt, Leyland Trucks, and DAF nameplates.
PACCAR designs and makes powertrains, provides Information technology support and financial services plus it also distributes truck parts to its principal customer-facing business.
Brands under PACCAR:
Kenworth: ( semi truck manufacturers)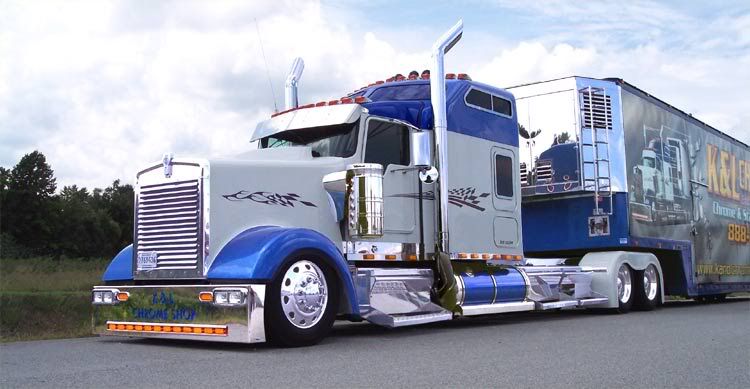 Kenworth manufacturer of medium and heavy-duty Class 8 trucks with its HQ at Kirkland, Washington. Kenworth is a PACCAR brand one of three major brands. Kenworth has about a 14% market share, it has grown a lot with annual revenue of 19.1 billion dollars and an estimated 154,000+ trucks sold in 2015.
Kenworth has great navigation and driver-assist technology if you are looking for a user-friendly tractor Kenworth won't disappoint you. Kenworth is made of some heavy-duty materials so it losses out on fuel savings.
Peterbilt:( semi truck manufacturers)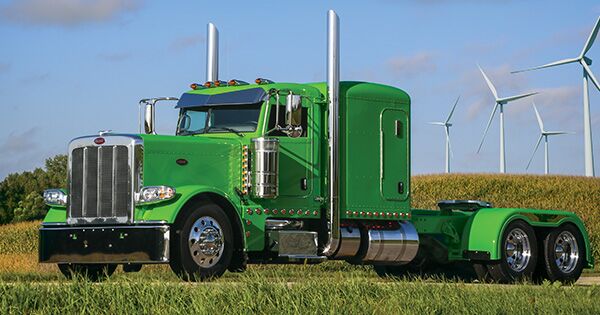 Peterbilt is an American manufacturer of medium and heavy-duty trucks founded in 1939. It's a subsidiary of the Paccar brand. Peterbilt has a classic look powerful rig which is made for the wide-open highways.
Peterbilt has been making rugged, reliable, and super-efficient trucks for the Americas for a long time. Head Quartered in Denton, Texas, Peterbilt makes the highway, vocational and medium-duty trucks.
Peterbilt makes up about 13 percent market share. They make high-quality and stylish trucks, which arouse loyalty and pride in the drivers and creates a mood of reliability in the owners.
Peterbilt makes most trucks with alternative fuel options. Some of their trucks have aluminum bodies. This makes them lighter and more fuel-efficient to operate, but you have to look somewhere else if you're planning on hauling heavy loads.
3) Navistar International (semi truck manufacturers)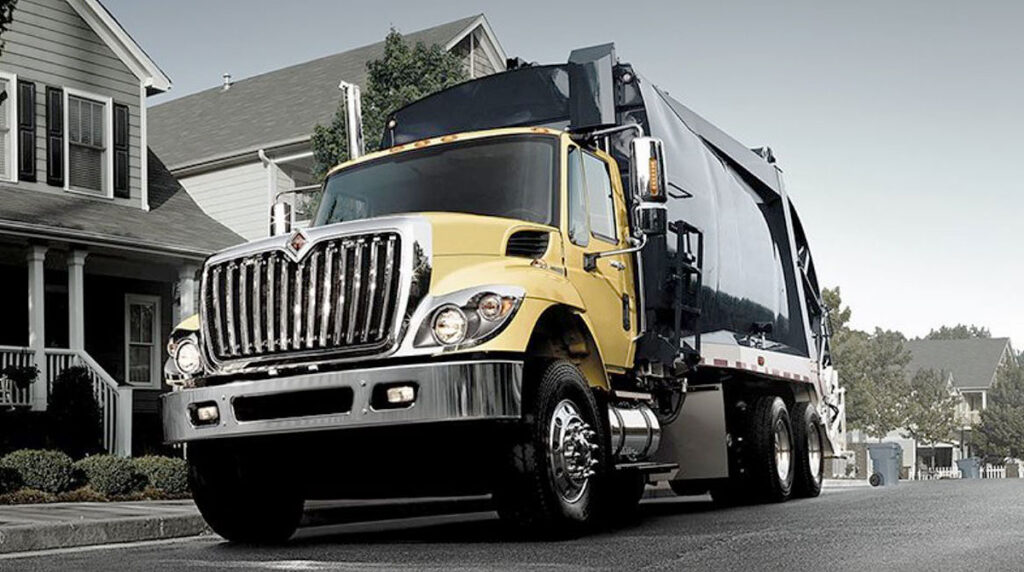 Navistar International is an American holding company that makes International brands in commercial trucks, IC Bus schools, and commercial buses. It was formerly known as International Harvester Company. It also makes workhorse brand chassis for motorhomes and step vans, and Navistar is a private-label designer and manufacturer of diesel engines for the pickup truck, van, and SUV markets.
Lonestar and the LT series, are models of International with good looks and super quality. Navistar has a market share of 11% in the US commercial trucking industry.
Based in Lisle, Illinois, Navistar has 16,500 employees and a 2021 annual revenue of $3.3 billion dollars.
Navistar branded products, parts, and services are sold through a network of 1000 outlets in the USA, Brazil, Canada, and Mexico. They have more than 60 dealers in 90 countries.
The Navistar trucks are known for their performance. These trucks are especially known for power and performance. Such performance makes models like Lonestar particularly apt for deliveries like cattle, horses, and other livestock.
4) Volvo Trucks (semi truck manufacturers)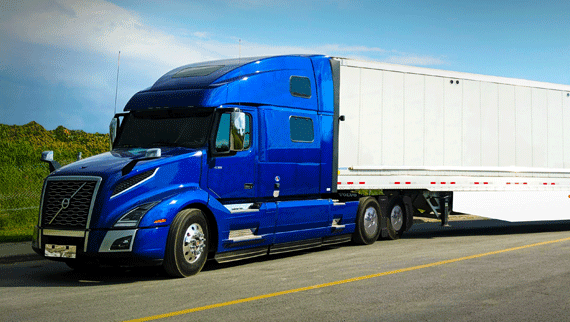 Volvo is a leading Swedish heavy truck and engine manufacturing company in the world. It has about 10% market share in the USA. It also owns well-known truck manufacturer MACK trucks. It makes a broad line of on-highway and vocational Class 8 vehicles.
In the USA Volvo ranks fifth, but worldwide ranks second for heavy-duty truck manufacturers. Drivers can be confident they are getting a quality ride with top-notch support and repair network.
Mack Trucks (AB Volvo Subsidairy)
rv repair
RV Decal Repair and Painting
Body Repair
Portfolio
Recent Projects
Testimonials
What clients are say
"My car's maintenance light came on, and I was just by the store so I decided to try. Luckily, I did. Didn't have to wait in line or anything. Their service is so fast and professional, it was almost in and out. I saw they are specialized in Germany cars but it was great for my Honda Civic. Definitely recommend."
Jessica Phuong P
"One of the best mechanics I've had experience with. Repaired my Mercedes that had died in large body of water during infamous flood week. Repair cost was very competitive and took only few days to receive car back. Raymond is a great guy to deal with and knowledgeable and an honesty rarely seen in my time dealing with car mechanics. My only regret is wish I had known him sooner!Would've saved me a lot of energy and money! Lol. Great guy, great experience. Thank you, Raymond. It was a pleasure!"
Albert C
"Have utilize this business over the past couple of years. Although it change owner a couple of times, the recent owner, Raymond has been great. I have a Honda Civic and Acura RDX. Both reliable cars and have been fixed, tune up, and been monitor by Quality Automotive. Raymond is awesome and is a reliable mechanic. He knows his imports. Best to call him for availability."
Anthony P
RV Paint Department RV motorhome fifth wheel travel trailer semi truck and trailer truck bodies fleet painting fleet repair commercial trailer painting commercial truck repair bus repair decals and stripes auto body and collision bumper repair rv service rv repair automotive rv recreational vehicles commercial truck repair (rvcollision.com)
RV PAINT DEPARTMENT FLEET REPAIR – 6654 Photos & 135 Reviews – 3675 W McFadden Ave, Santa ana, California – Body Shops – Phone Number – Yelp
RV collision center Orange county Richmond Va Las Vegas nv Phoenix Az dallas TX Yuma AZ new york indianapolis indiana – RV Paint Department (rvpaintdepartment1.com)
RV Paint Department RV motorhome fifth wheel travel trailer semi truck and trailer truck bodies fleet painting fleet repair commercial trailer painting commercial truck repair bus repair decals and stripes auto body and collision bumper repair rv service rv repair automotive rv recreational vehicles commercial truck repair (rvcollision.com)
RV PAINT DEPARTMENT FLEET PAINTING – 283 Photos & 29 Reviews – 9441 Opal Ave, Mentone, California – RV Repair – Phone Number – Yelp
RV Paint Department – RV repair Rv service Rv collision repair Semi truck body shop Auto Body Bumper repair Body shhop Los angeles Orange Riverside san bernardino san diego san francisco
RV Paint Department, Mentone, CA – Reviews (10), Photos (7) – BestProsInTown
RV Paint Department Fleet Painting, 9441 Opal Ave, Mentone, CA, Truck Repair & Service – MapQuest
Fleet Repair Semi truck trailer painting Repair Restoration Fabrication – rv paint department Fleet Repair Fleet Refinishing Semi truck trailer Motorhome RV diesel truck and trailer collision carriers tankers heavy duty repair paint service Detroit Michigan Seattle washington inland empire Los Angeles California (fleetrepairandpaint.com)
RV Paint Department – RV repair shop – Indio, California – Zaubee
(2) #RVPAINTDEPARTMENT RV paint Department… – RV PAINT Department | Facebook
RV Repair RV Paint Department and Collision – 1353 Philadelphia St suite 100, Pomona, CA 91766 (businessyab.com)
(20) RV Paint Department fleet painting | LinkedIn
(8) RV Paint Department RV collision rV repair – YouTube
RV paint department & collision Banning CA, 92223 – Manta.com
RV Paint Department and Collision – Fontana, CA (foursquare.com)
RV PAINT DEPARTMENT – 11627 Merritt Hill Dr, Agua Dulce, California – Body Shops – Phone Number – Yelp
RV PAINT DEPARTMENT FLEET PAINTING – 123 Mobile Phoenix Az, Phoenix, Arizona – Trailer Repair – Phone Number – Yelp
(2) https://www.yelp.com/biz/rv-paint-department-… – RV PAINT Department | Facebook
Raymond A Lopez Jr. (@rvpaintdepartment) • Instagram photos and videos
RV Repair – RV Paint Department
RV Paint Department fleet painting RV roof rv fiberglass mobile RV collision repair RV repair RV service Rv roof Repair Auto body bumper repair Semi truck collision repair gel coat motorhome fifthwheel rv decal repair service replace removeFleet refinishing 909-300-5409 OC RV insurance claims the paint department we have is the best in Alameda Alpine Amador Butte Calaveras Colusa Contra Costa Del Norte El Dorado Fresno Glenn Humboldt Imperial Inyo Kern Kings Lake Lassen Los Angeles Los Angeles County not covered Madera Marin Mariposa Mendocino Merced yelp yellow pages boat painting Good year mesa yuma phoenix tucson red rock flagstaff mesa peoria scottsdale – RV paint Department (dieselpusher.info)
(20) RV Paint Department fleet painting | LinkedIn
RV Paint Department fontana| RV extended Warranty Repair RV Repair,RV Roof Repair,Rv Collision Repair, Rv Paint, Rv appliances, R Parts,RV Paint department Chino Northern California San Francisco Bay Area Alameda, Contra Costa, Marin, Napa, San Francisco, San Mateo, Santa Clara, Solano, and Sonoma counties. The cities of San Francisco, San Jose, Oakland, and their many suburbs. Although not a part of the Bay Area, in recent years the Bay Area has drawn more commuters from as far as Central Valley cities such as Sacramento, Stockton, Fresno, Turlock and Modesto. (rvrepairanaheimorangecounty.com)
rv repair rv paint fleet painting yrailer painting semi truck body shop rv body shoprv roof repair rv fiberglass repair evansville mills casper wyoming natrona county – RV Paint Department (tetonrv.com)
Clear Coat Auto Body and Collision – 909-300-5409
RV PAINT DEPARTMENT FLEET PAINTING – 48 Photos – 5836 E 32nd St, Yuma, Arizona – RV Repair – Phone Number – Yelp
RV collision center Orange county Richmond Va Las Vegas nv Phoenix Az dallas TX Yuma AZ new york indianapolis indiana – RV Paint Department (rvpaintdepartment1.com)
rv repair rv paint fleet painting yrailer painting semi truck body shop rv body shoprv roof repair rv fiberglass repair evansville mills casper wyoming natrona county – RV Paint Department (tetonrv.com)
(8) RV PAINT CHINO, RV PAINT DEPARTMENT – YouTube
RV Paint Department – RV repair Rv service Rv collision repair Semi truck body shop Auto Body Bumper repair Body shhop Los angeles Orange Riverside san bernardino san diego san francisco
(8) RV Paint Department RV collision rV repair – YouTube
Best Ways to Get From Crevier Classic Cars to RV Paint Department | Lyft
RV Paint Department Ontario, CA – Last Updated August 2023 – Yelp
RV PAINT DEPARTMENT FLEET REPAIR – 6654 Photos & 135 Reviews – 3675 W McFadden Ave, Santa ana, California – Body Shops – Phone Number – Yelp
Best Ways to Get From WorldMark to RV Paint Department | Lyft
Clear Coat Auto Body and Collision – 909-300-5409
Home – Clear coat collision repair sevice
RV Paint Department fontana| RV extended Warranty Repair RV Repair,RV Roof Repair,Rv Collision Repair, Rv Paint, Rv appliances, R Parts,RV Paint department Chino Northern California San Francisco Bay Area Alameda, Contra Costa, Marin, Napa, San Francisco, San Mateo, Santa Clara, Solano, and Sonoma counties. The cities of San Francisco, San Jose, Oakland, and their many suburbs. Although not a part of the Bay Area, in recent years the Bay Area has drawn more commuters from as far as Central Valley cities such as Sacramento, Stockton, Fresno, Turlock and Modesto. (motorhomervtrailerrepair.com)
RV PAINT DEPARTMENT in Agua Dulce, CA 91390 – (909) 300-5409 (chamberofcommerce.com)
Clear Coat Auto Body and Collision | (909) 300-5409 | Santa Ana, California (allbiz.com)
RV paint department in Indio, CA 92201 – (chamberofcommerce.com)
RV PAINT DEPARTMENT – 11627 Merritt Hill Dr, Agua Dulce, California – Body Shops – Phone Number – Yelp
RV PAINT DEPARTMENT – Santa Fe, New Mexico – Auto Repair – Phone Number – Yelp
41 RV custom Painting ideas | rv, custom paint, painting (pinterest.ca)
RV Paint Department | RV Extended Warranty Repair Shop Near Me ocrv center the paint department premier coach works bus repair fleet painting RV motorhome 5th wheel semi truck and trailer truck bodies lunch truck repair fiberglass repair collision auto body shop fabricating parts fix auto caliber paint
RV custom Painting RV paint Department Algodones Mex, – YouTube
RV Paint Department | Auto Body Alliance
RV Paint Department – Rental Car Location (foursquare.com)
(8) RV Paint Department RV collision rV repair – YouTube
RV Paint Department on Sultana Ave in Fontana, CA – 909-300-5409 | USA Business Directory – CMac.ws
(8) RV Paint Department and Collision – YouTube
RV PAINT DEPARTMENT FLEET REPAIR – 6654 Photos & 135 Reviews – 3675 W McFadden Ave, Santa ana, California – Body Shops – Phone Number – Yelp
RV PAINT DEPARTMENT, INC. in Mentone, CA | Company Info & Reviews (bizapedia.com)
RV repair RV collision repair RV body RV clear coat repair motorhome trailer 5th wheel semi truck and trailer body – RV paint department 909-300-5409 (rvpaintdept.com)
Auto-Body-Santa-Ana- Auto body images Auto bumper repair car bumper repair near me auto body shop near me body shop near me scratch repair near me auto collision repair near me body and paint near me paint and body near me rear bumper front bumper car bumper plastic bumper car buffing polishing color sanding clear coat repair auto dent repair near me Emergency Roadside Service Open Sunday Open 24/7 Auto body and Paint auto collision bumper repair dent repair auto glass repair (motorhomervtrailerrepair.com)
Auto-Body-Santa-Ana- RV Paint Department (rvrepair.info)
https://www.fleetpainting.net/
https://www.fleetrefinishing.net/
Bumper Repair Santa Ana – Auto body shop – Santa Ana, California – Zaubee
Clear Coat Frame & Collision – Santa Ana, CA 92701 (yellowpages.com)
spray in bedliner $695.00 Santa Ana Ca, 92701 Clear Coat Frame And Collision – YouTube
Bumper Repair Santa Ana Ca, 92703 Clear Coat Auto body and collision – YouTube
Auto body, Auto body repair,Auto body repair video, Bumper repair video, Video, Auto body shop near me, Auto body and collision repair,body shop, Auto collision, Auto bumper repair, Car bumper repair, Car window repair, Auto glass,Body and Paint, Auto glass shop, Paintless dent removal, Vehicle wraps, Auto tinting, Radiator repair, Frame straightening, Auto body damage, Paint touch up, Clear coat repair, Auto buffing,Carbon fiber paint repair,Smoked headlights, Car roof repair,Auto Suspension repair,Color sanding, Auto color blending,Lamborghini Repair, Ferrari Repair, Rolls Royce, Delorean, Plastic bumper repair,Rear end Collision, Roadside service,Rear bumper repair, Front bumper repair Dead battery jumping,Bmw bumper repair, Tesla bumper repair, Lamborghini Repair, Ferrari repair, Karma repair, Porshe repair,Honda repair, Chevy repair, toyota repair,Porshe Bumper repair Serving -Delhi-Santa-ana-Ca (paintdept.com)
RV Paint Department Fleet Painting, 9441 Opal Ave, Mentone, CA, Truck Repair & Service – MapQuest
Clear Coat Auto Body bumper Repair and Collision – Auto Body Shops in Santa Ana | DataGemba
Clear Coat Auto-Body and Collision-Santa-Ana-CA 3675 w mcfadden ave 909-300-5409 Auto body, Auto body repair, Auto body shop near me, Auto body and collision repair,body shop, Auto collision, Auto bumper repair, Car bumper repair, Car window repair, Auto glass,Body and Paint, Auto glass shop, Paintless dent removal, Vehicle wraps, Auto tinting, Radiator repair, Frame straightening, Auto body damage, Paint touch up, Clear coat repair, Auto buffing,Carbon fiber paint repair,Smoked headlights, Car roof repair,Auto Suspension repair,Color sanding, Auto color blending, Plastic bumper repair,Roadside service, Dead battery jumping,Bmw bumper repair, Tesla bumper repair, Lamborghini Repair, Ferrari repair, Karma repair, Porshe repair,Honda repair, Chevy repair, toyota repair, -Westminster, Garden Grove, Tustin Newport Beach, Irvine (autobodybumperrepair.com)
Clear Coat Auto Body And Collision Gift Cards and Gift Certificate – 3675 W Mcfadden Ave, Santa Ana, CA (giftly.com)
Clear Coat Frame and Collision, 811 S Grand Ave, Santa Ana, CA, Accounting & Bookkeeping General Service – MapQuest
Clear Coat Auto Body – 1610 North Newhope Street Suite C Santa Ana; CA 92703 – AutoBodyRepair.shop
Clear Coat Auto Body and collision | RV Paint Department RV Roof Repair,RV Storage,RV Body repair, RV Electrical repair, RV solar panel and invertor installation, RV plumbing, Complete motorhome remodeling, RV TV upgrades, ,RV Repair Video,Video RV Repair, Motorhome Body Repair,RV Fiberglass repair, RV Decals, Rv sidewall Repair, RV Awning, RV awning fabric replacement, Roof leaks, Water damage, Roof coatings RV roof seal,Motorhome, Camper , Trailer, Totorhome, Toyhaulers,Serving Orange County, Riverside county, San bernardino County, Ventura County, Santa Barbara County, Imperial County, RV Roof Repair Near me. Las Vegas Nevada, Los Angeles California, Phoenix Arizona, Santa Fe Nw Mexico, Austin Texas, Houston Texas, Yuma Arizona, Sacramento Ca, (dieselpusher.info)
Bumper-Repair-Arcadia- Auto body, Auto body repair,Auto Repair,Radiator service and repair, Auto glass,Auto Suspension repair, Auto body shop near me, Auto body and collision repair,body shop, Auto collision, Auto bumper repair,SRS airbag repair, Car bumper repair, Car window repair,Fiberglass repair,Auto glass,Body and Paint, Auto glass shop, Paintless dent removal, Vehicle wraps, Auto tinting, Radiator repair, Frame straightening, Auto body parts, Paint touch up, Clear coat repair, Auto buffing,Carbon fiber paint repair,Smoked headlights, Car roof repair,Auto Suspension repair,Color sanding, Auto color blending, Plastic bumper repair,Auto body shop near me, Body shop near me, bumper repair near me, Body and Paint near me,Rear end Collision,Auto collision shop near me, auto body shop near me, Body and Paint near me, Bumper repair near me, Roadside service,Rear bumper repair,Fleet repair, Fleet Painting, Fleet Refinishing, Front bumper repair Dead battery jumping,Bmw bumper repair, Tesla bumper repair, Lamborghini Repair, Ferrari repair, Karma repair, Porshe repair,Honda repair, Chevy repair, toyota repair, Serving Arcadia (santa-ana-bumper-repair.com)
Clear Coat Auto Body and Collision – Yahoo Local Search Results
AUTO BODY Santa Ana Ca, 92707 Clear Coat Auto Body and Collision – YouTube
Clearcoat frame and collision | Clear Coat Frame and Collision in Santa Ana, CA 92701 (merchantcircle.com)
CLEAR COAT COLLISION, INC. | California Companies Directory (ltddir.com)
RV Paint Santa Ana Ca, 92705 Clear Coat Frame and Collision – YouTube
Clear Coat Auto Body & Collision Santa Ana CA, 92704 – Manta.com
¿Cómo llegar a Clear Coat Frame & Collision en Santa Ana en Autobús? (moovitapp.com)
Auto-Body-Santa-Ana-Ca-92703- Auto body, Auto body repair,Auto Suspension repair, Auto body shop near me, Auto body and collision repair,body shop, Auto collision, Auto bumper repair, Car bumper repair, Car window repair,Fiberglass repair,Auto glass,Body and Paint, Auto glass shop, Paintless dent removal, Vehicle wraps, Auto tinting, Radiator repair, Frame straightening, Auto body parts, Paint touch up, Clear coat repair, Auto buffing,Carbon fiber paint repair,Smoked headlights, Car roof repair,Auto Suspension repair,Color sanding, Auto color blending, Plastic bumper repair,Rear end Collision,Auto collision shop near me, auto body shop near me, Body and Paint near me, Bumper repair near me, Roadside service,Rear bumper repair,Fleet repair, Fleet Painting, Fleet Refinishing, Front bumper repair Dead battery jumping,Bmw bumper repair, Tesla bumper repair, Lamborghini Repair, Ferrari repair, Karma repair, Porshe repair,Honda repair, Chevy repair, toyota repair, Serving Santa Ana Orange County CA (rvpaintdept.com)
Clear Coat Auto-Body and Collision-Santa-Ana-CA 3675 w mcfadden ave 909-300-5409 Auto body, Auto body repair, Auto body shop near me, Auto body and collision repair,body shop, Auto collision, Auto bumper repair, Car bumper repair, Car window repair, Auto glass,Body and Paint, Auto glass shop, Paintless dent removal, Vehicle wraps, Auto tinting, Radiator repair, Frame straightening, Auto body damage, Paint touch up, Clear coat repair, Auto buffing,Carbon fiber paint repair,Smoked headlights, Car roof repair,Auto Suspension repair,Color sanding, Auto color blending, Plastic bumper repair,Roadside service, Dead battery jumping,Bmw bumper repair, Tesla bumper repair, Lamborghini Repair, Ferrari repair, Karma repair, Porshe repair,Honda repair, Chevy repair, toyota repair, -Westminster, Garden Grove, Tustin Newport Beach, Irvine (dieselpusher.info)
Clear Coat Auto-Body and Collision-Santa-Ana-CA 3675 w mcfadden ave 909-300-5409 Auto body, Auto body repair, Auto body shop near me, Auto body and collision repair,body shop, Auto collision, Auto bumper repair, Car bumper repair, Car window repair, Auto glass,Body and Paint, Auto glass shop, Paintless dent removal, Vehicle wraps, Auto tinting, Radiator repair, Frame straightening, Auto body damage, Paint touch up, Clear coat repair, Auto buffing,Carbon fiber paint repair,Smoked headlights, Car roof repair,Auto Suspension repair,Color sanding, Auto color blending, Plastic bumper repair,Roadside service, Dead battery jumping,Bmw bumper repair, Tesla bumper repair, Lamborghini Repair, Ferrari repair, Karma repair, Porshe repair,Honda repair, Chevy repair, toyota repair, -Westminster, Garden Grove, Tustin Newport Beach, Irvine (racetrailerpainting.com)
RV Paint Department fleet painting on LinkedIn: Home – Clear coat collision repair sevice
CLEARCOATCOLLISION videos – Dailymotion
Clear Coat Auto Body And Collision, Santa Ana | Roadtrippers
Clear Coat Auto Body And Collision, Santa Ana | Roadtrippers
Clear Coat Frame & Collision | Hathaway St, Santa Ana, CA 92701 | 714-953-7625 (b2byellowpages.com)
Clear Coat Collision, 3675 W McFadden Ave, Santa Ana, CA, Auto Repair – MapQuest
Clear Coat Collision, 3675 W McFadden Ave, Santa Ana, CA, Auto Repair – MapQuest
Clear Coat Auto Glass and Collision – Santa Ana, CA 92701 – (714)636-3850 | ShowMeLocal.com
Clear Coat Collision, Inc. in Santa Ana CA – Company Profile (corporationwiki.com)
Clear Coat Frame And Collision (yasabe.com)
Auto body bumper repair clear coat collision… – RV PAINT Department | Facebook
Collision Repair Santa Ana Ca, Clear Coat Auto Body and Paint – YouTube
Raymond Lopez – Clear Coat Auto Body and Collision, Santa Ana, California (allpeople.com)
Auto body bumper repair clear… – RV Paint Department RV Service | Facebook
https://www.rvservicedepartment.com
Auto body bumper repair clear… – RV Paint Department RV Service | Facebook
Auto body bumper repair clear coat collision… – RV PAINT Department | Facebook
Clear Coat Auto Body bumper Repair and Collision in Santa Ana, CA 92704 – 909-300-5409 (chamberofcommerce.com)
Clear Coat Collision, Santa Ana | Roadtrippers
Clear Coat Auto-Body and Collision-Santa-Ana-CA 3675 w mcfadden ave 909-300-5409 Auto body, Auto body repair, Auto body shop near me, Auto body and collision repair,body shop, Auto collision, Auto bumper repair, Car bumper repair, Car window repair, Auto glass,Body and Paint, Auto glass shop, Paintless dent removal, Vehicle wraps, Auto tinting, Radiator repair, Frame straightening, Auto body damage, Paint touch up, Clear coat repair, Auto buffing,Carbon fiber paint repair,Smoked headlights, Car roof repair,Auto Suspension repair,Color sanding, Auto color blending, Plastic bumper repair,Roadside service, Dead battery jumping,Bmw bumper repair, Tesla bumper repair, Lamborghini Repair, Ferrari repair, Karma repair, Porshe repair,Honda repair, Chevy repair, toyota repair, -Westminster, Garden Grove, Tustin Newport Beach, Irvine (tetonrv.com)
Auto body bumper repair clear… – Clear Coat Frame And Collisions | Facebook
clear coat frame and collision – Automotive Repair Shop (foursquare.com)
Auto body bumper repair clear coat… – The PAINT Department | Facebook
https://www.thepaintdepartment.org
https://www.fleetrepairandpaint.com
https://www.rvpaintdepartment.com
RV Paint Department RV motorhome fifth wheel travel trailer semi truck and trailer truck bodies fleet painting fleet repair commercial trailer painting commercial truck repair bus repair decals and stripes auto body and collision bumper repair rv service rv repair automotive rv recreational vehicles commercial truck repair (rvcollision.com)
Auto body bumper repair Santa Ana – Clear Coat Auto Body and Collision
Bumper Repair Santa Ana Ca, 92701 Clear Coat Auto body and Collision – YouTube
Collision Santa Ana Ca 92703 Clear Coat Frame and Collision – YouTube
Clear Coat Frame and Collision – Santa Ana, CA 92703 – (714)636-3850 | ShowMeLocal.com
Clear Coat Frame & Collision – Santa Ana, CA 92701 (yellowpages.com)
Clear Coat AUTO BODY and Collision, California: Location, Map, About & More (vymaps.com)
CLEAR COAT  AUTO BODY AND COLLISION – 72 Photos & 29 Reviews – 3675 W Mcfadden Ave, Santa Ana, California – Body Shops – Phone Number – Yelp
clear coat collision santa ana – Bing images
Clear Coat Collision, 3675 W McFadden Ave, Santa Ana, CA, Auto Repair – MapQuest
CLEAR COAT  AUTO BODY AND COLLISION – 72 Photos & 29 Reviews – 3675 W Mcfadden Ave, Santa Ana, California – Body Shops – Phone Number – Yelp
Clear Coat Auto Body & Collision Santa Ana CA, 92704 – Manta.com
CLEAR COAT COLLISION – 3675 W McFadden Ave, Santa Ana, California – RV Repair – Phone Number – Yelp
clear coat collision santa ana – Bing images
clear coat collision santa ana – Bing images
clear coat collision santa ana – Bing images
clear coat collision santa ana – Bing images
clear coat collision santa ana – Bing images
clear coat collision santa ana – Bing images clear coat collision santa ana – Bing images
https://www.bing.com/images/search?view=detailV2&ccid=0HStDTuc&id=82B1DD7E55A28DA7115317FA8A2C6C2F6FAAB86C&thid=OIP.0HStDTuc0b0xBtlbs_ZwMgHaFj&mediaurl=https%3a%2f%2fi.ytimg.com%2fvi%2fxZY2Ht4LdOU%2fhqdefault.jpg&cdnurl=https%3a%2f%2fth.bing.com%2fth%2fid%2fR.d074ad0d3b9cd1bd3106d95bb3f67032%3frik%3dbLiqby9sLIr6Fw%26pid%3dImgRaw%26r%3d0&exph=360&expw=480&q=clear+coat+collision+santa+ana&simid=608010775161539983&FORM=IRPRST&ck=4669410DF22B228EC31875577814A8E1&selectedIndex=18&ajaxhist=0&ajaxserp=0